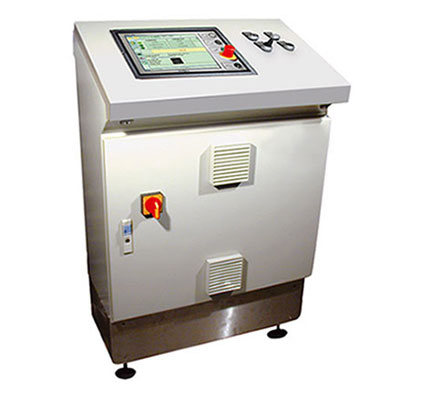 The automation and supervision of SMI conveyors are controlled by the VLS (VaryLine System) PRO, an advanced hw/sw system designed by SMI and based on PROFIBUS field bus.
The VLS PRO can control up to 121 inverter-equipped motors and integrates in a single control unit both the PC controlling the conveyor line and the multi-language man-machine interface. Furthermore, the control unit can be positioned in the most strategic point within the line, thanks to its reduced size.
Automation and control at customer's disposal
The conveyor systems manufactured by SMI offer several advantages for the end user, thanks to the innovative technology used for the automation and control of the system operations. Among the main features, the following ones are worth mentioning:
reduced costs, thanks to a distributed architecture based on inverters with integrated motor, requiring less space for the electrical panels and simplifying the wiring
user-friendly technology, thanks to the use of only one industrial PC (POSYC) combining the functions of control unit and of operator interface reduced size of the control unit,which can be positioned in the most strategic point within the line
line wiring costs and times among the lowest of the category
modularity, allowing to install several VLS units within the same system
operating flexibility and quick changeover
reduced maintenance operations
multi-language man-machine interface
low energy consumption
User-friendly technology
From the POSYC VLS control unit with LCD touch screen, the operator can perform several operations, such as:
set the conveyors operation parameters
adjust the conveyors speed according to the product flow and type
stop the conveyors and start them again automatically, according to the required product flow
collect the production data
plan the maintenance operations
* The stated values are not binding, as they have to be confirmed by SMI according to the user's production conditions.